You save €25,000 on average
We do it for you for free
Moneysherpa is Ireland's #1 mortgage broker
Savings without the stress. We do the work and get you the best rate. Even better we're free as we're paid by the lenders.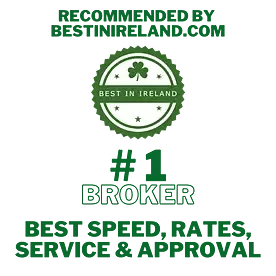 Savings and time to savings based on average moneysherpa switcher.
What our customers say about us
Thank you to Daire and Niki for their assistance in securing our fixed rate mortgage. Both very professional and friendly. Made the process very straightforward, from assisting with paperwork and explaining the finer details. Grateful to have worked with such a good team.
paul kinnarney
30/08/2023
Great experience with moneysherpa.Everything was easy to upload and was a hassle free experience. Also daire and niki were very helpful along the way which made the whole thing much easier
5 stars. Excellent communication from start to finish. Very helpful. We are very happy with service.
Laurence Timmons
23/08/2023
I organized to review my mortgage arrangements with Gavin and I would have to say it was one of the best decisions I have made. It was straight forward, professional and I received excellent advice. I would recommend to anyone with a mortgage to take the time to do the same. Well done Moneysherpa
clare oconnell
22/08/2023
Excellent service from start to finish and I cannot thank Petrina enough for helping us with our mortgage. She made the whole journey straightforward and was happy to answer all of the questions that we had. We genuinely cannot believe we have the keys to our home now, much earlier than we expected and it was down to the Petrina's and Niki's professionalism and efficiency. I have recommended moneysherpa to friends and family.
Antonio Lampasi
08/08/2023
We were worried at the start about the full process to switch mortgage (papers and the full process),but the team supported us from day one. They have really friendly tool to support the process and upload all the required documentations. The process was really straight forward and the team supported in all the steps. Highly recommended!!!
Found Gavin to be very professional and straight talking. As a switcher we found his guidance and advice most helpful. Would definitely recommend a consultation.
Money Sherpa - what can I say, the whole process was an incredibly positive experience. I was applying for mortgages with various Irish banks alongside my application with Avant Money via Money Sherpa. The difference in approach by Money Sherpa in comparison to the Irish banks was very evident throughout. Money Sherpa's efficiency and professionalism simplified the whole process. They couldn't have been more helpful from start to finish. Kinga and Niki were a pleasure to work with and nothing was too much trouble for them. They are also very personable, they really cared about securing a mortgage for me. It genuinely felt like we were in it together. Highly recommend!
Claudelle Mccague
26/07/2023
We could not recommend Moneysherpa highly enough, their professionalism is outstanding. Kinga and Niki were a pleasure to work with and only a call or email away. The easy upload of documents is so easy and saves so much time.