You save €25,000 on average
We do it for you for free
Moneysherpa is Ireland's #1 mortgage broker
Savings without the stress. We do the work and get you the best rate. Even better we're free as we're paid by the lenders.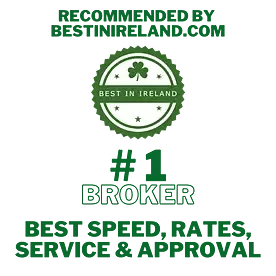 Savings and time to savings based on average moneysherpa switcher.
What our customers say about us
This is one the best professional agency I have ever dealt with. My broker Daire was very transparent and helpful from the start. He was always available for any questions or queries. He guided me thoroughly through the process and streamlined the whole thing in best way possible. Niki was looking after the admin process in the later stages and she was wonderful throughout. She followed up on every step and was never shy on sending reminders regarding the deadlines which shows the professionalism and personal care towards the case. Would definitely be recommending this to the others.
Excellent service. I spoke with Gavin. About switching my mortgage Fabulous service with great advice. Took on board all the advice and has put my mind at ease. Thanks Gavin
I got my mortgage with moneysherpa, and I could not be happier with their service. I dealt with Kinga and Niki who were both absolutely fantastic. They kept me informed of how my application was progressing, and anytime I had a question I would get a very quick reply. I never once had to say "I'm waiting to hear back from my broker". Kinga and Niki were mostly waiting on replies from me! They are fast, it only took 4 weeks from my first video meeting with Kinga to get my loan offer, and once my solicitor had sorted out the contracts it only took another week to draw down. The online portal is excellent, it was very easy to upload my documents, and the messaging chatbox made it super convenient to communicate back and forth. I would highly recommend moneysherpa.
The moneysherpa team were a great help to me in organising my mortgage. Kinga and Niki were a great help, very responsive, and made the process easy for me. They took care of organising all the paperwork and requirements, saving me on time and headaches. The online portal moneysherpa operates was nice and easy to operate and gave me access to all my mortgage related documentation. I would recommend the team for anyone looking to get a mortgage.
Excellent, friendly and competent service. Will definitely use again in the future. Would highly recommend Moneysherpa.
Thomas Patrick Keogh
03/10/2023
The online upload portal was simple to use and made the whole process was super easy. Daire & Niki were great to deal with and kept me up to date at all times and answered any questions very quickly.
Moneysherpa were very easy to deal with and made switching mortgages retalively easy. Petrina & Niki kept us up to date and on track the whole time and made everything very simple for us! Would definitely recommend.
Excellent service from start to finish. Very user friendly app, brilliant communication and excellent clarity all through the process. Ours was a particularly tricky case and we felt that Kinga, Niki and the team were constantly fighting our corner to get it over the line. Would highly recommend. 5*
The guys at moneysherpa were a pleasure to deal with and the whole online process made the application so simple and fast. Great service A+++++