With Irish Banks offering the lowest interest rates on savings in Europe, many Irish savers are looking for a way to get the money they deserve for their hard earned savings. For many of these downtrodden savers, Raisin Bank Ireland may offer a way for you to stop making pennies on your savings and start making some real money.
Best Fixed Term Savings Accounts
Best Fixed Term Saving Accounts
Bunq
Raisin
AIB
Bank of Ireland
Permanent TSB
State Savings
Savings Rate (AER)
1.56%
4.21%
1.75%
1.50%
1.5%
0.33%
Term
Instant
1 Year
1 Year
1 Year
1 Year
3 Year
Conditions
upto €100,000
upto €100,000
€15,000 – no limit
€5,000 – no limit
€5,000 – no limit
€50 – €120,000
Correct as of 01/09/23. AER = Annual Equivalent Rate
Raisin Bank Ireland offers interest rates of up to 4.21% compared to Irish commercial banks, which offer rates anywhere between 2% and 1.5% depending on your provider. The difference for your wallet is night and day, but is there a catch to this offer you can't refuse? Check out the key facts in our video explainer, read our full review below to find out more or sign up to Raisin.ie here.
Who are Raisin? – Raisin Bank Ireland 2023
Raisin Bank Ireland are a German fintech best described as an online savings and investment marketplace. Raisin allows their customers to access better saving and investment opportunities from over 400 banks in more than 30 countries across Europe.
In 2019, Raisin Bank Ireland began offering their services in Ireland. The company stated that they targeted Irish customers due to Ireland's poor interest rates, with data from the ECB showing that Irish savers face the lowest retail interest rates in Europe.
How does Raisin Bank work? – Raisin Bank Ireland 2023
Under the German Banking Act- Raisin Bank allows its customers to find better interest rates on their savings from a wide range of banks within the EU.
Customers can set up savings accounts in EU countries offering market leading rates, meaning Irish savers aren't limited to the lower rates currently offered here in Ireland, with term deposits under €100,000 being protected by the European deposit guarantee scheme.
Here are some of the leading interest rates currently offered by Raisin Bank's savings accounts:
Best Raisin Savings Accounts
Best Raisin Saving Accounts
Banco Portuges
BFF
Youunited
Banca Privata
BluOr Bank
J&T Banka
Savings Rate (AER)
3.6%
3.50%
2.95%
2.90%
2.80%
2.40%
Term
1 Year
1 Year
1 Year
1 Year
1 Year
1 Year
Conditions
€20,000-€100,000
€5,000-€100,000
€2,000-€100,000
€5,000-€100,000
€1-€100,000
€10,000-€100,000
Correct as of 29/05/23. AER = Annual Equivalent Rate
It's worth noting that just like you would with an Irish bank you will still have to declare and pay 33% tax on the money you earn in interest. One added complication though is that some countries also charge a withholding tax on earned interest, in most cases due to double taxation treaties between countries you won't get hit twice, but you will have to file the right paperwork with the relevant revenue authorities to ensure you don't or pick a bank in a country that doesn't charge a withholding tax.
As you can see below though even after all taxes are taken into account the savings are still significant.
| 3 Year Term | APR | Principal | Years | Cumulative | Cumulative Interest | Net of DIRT | Increase Over Irish Banks |
| --- | --- | --- | --- | --- | --- | --- | --- |
| PTSB | 2.00% | €10,000 | 3 | €10,618 | €618 | €10,414 | |
| YOUNITED | 3.35% | €10,000 | 3 | €11,056 | €1,056 | €10,707 | €293 |
| PTSB | 2.00% | €25,000 | 3 | €26,545 | €1,545 | €26,035 | |
| YOUNITED | 3.35% | €25,000 | 3 | €27,639 | €2,639 | €26,768 | €733 |
| PTSB | 2.00% | €50,000 | 3 | €53,089 | €3,089 | €52,070 | |
| YOUNITED | 3.35% | €50,000 | 3 | €55,278 | €5,278 | €53,537 | €1,467 |
Updated 1/09/23
The best rates are often available in banks with withholding taxes or with lower credit ratings, so to keep things safe and simple you may be better off picking a bank in a country with a slightly lower interest rate, but no potential tax or credit rating complications.
How do I set up a Raisin Bank Account? – Raisin Bank Ireland
In order to get started with Raisin Bank and look for better interest rates for your savings abroad, you will need to set up an account. Setting up a Raisin account or using their services won't cost you anything, and is a very straightforward process.
First go to Raisin.ie and click "Register". Once you've entered your email, you'll be brought to a page that asks you to fill in your personal and contact details. Next, you'll be asked for some further information, such as your profession, nationality, and PPSN.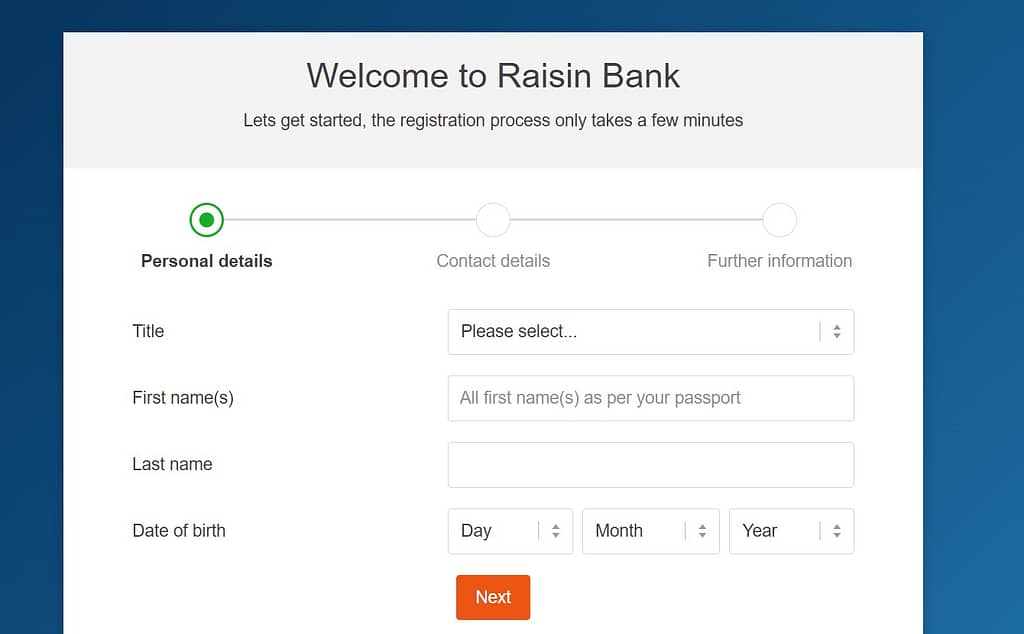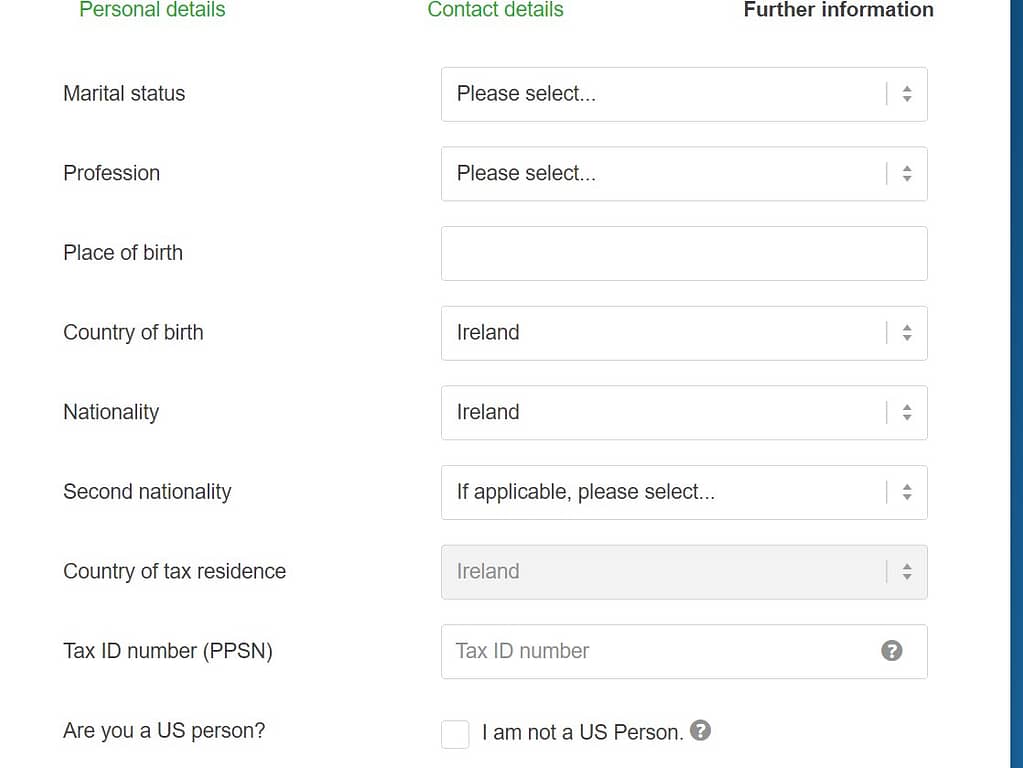 Then after setting up your password, you'll be asked to upload some proof of address, such as a utility bill or bank statement dated within the last 3 months.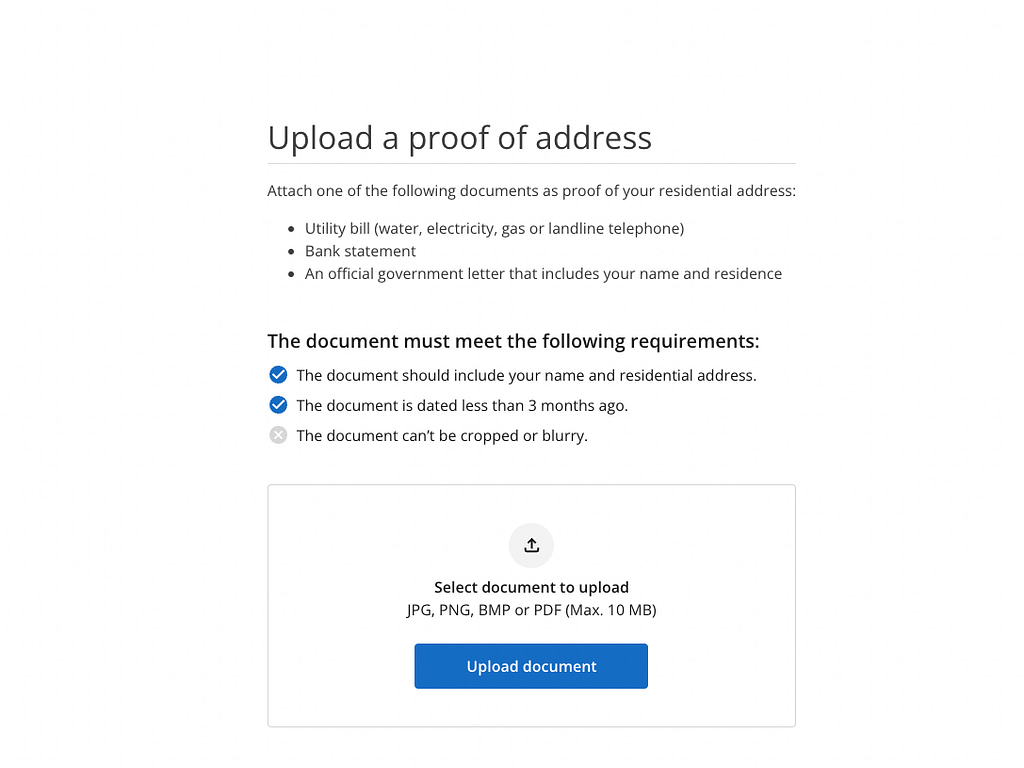 You will also need to do a short video call to confirm your identity.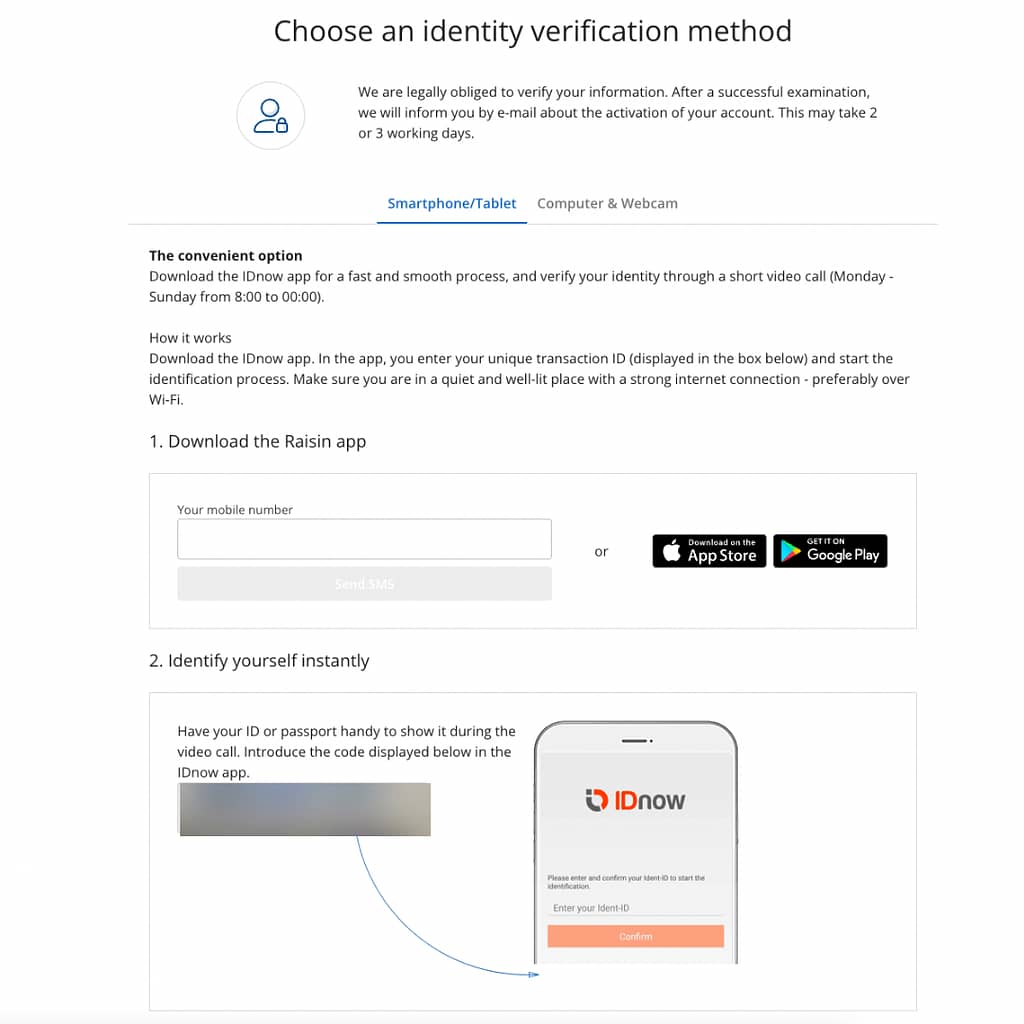 After successfully setting up your account, customers can choose from a wide range of interest rates offered by Raisin's partner banks all across Europe, as well as set up different deposit accounts all through one online banking system.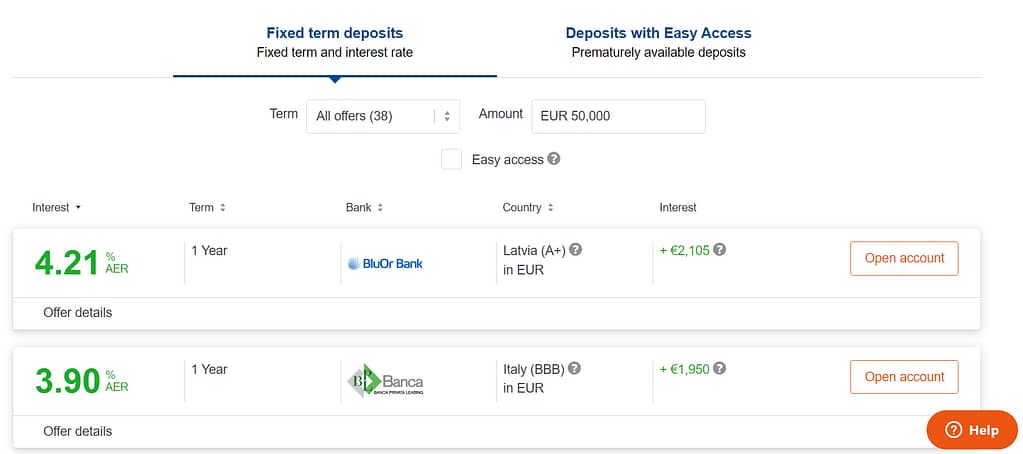 What are the Pros and Cons of setting up a Raisin Bank account? – Raisin Bank Ireland
| | |
| --- | --- |
| Pros | Cons |
| Offers market leading interest rates from over 30 different European countries. | Doesn't offer checking or business accounts. |
| Offers different deposit accounts. | Money transfers in and out of external accounts take up to three business days. |
| Free to use. | A harsh increase in DIRT without proper paperwork |
| Banking services all available in one place. | |
What are the alternatives to Raisin? – Raisin Bank Ireland
Raisin has a few competitors in the high interest savings field that some may find more appealing. These include Bunq and Trade Republic.
Bunq has a very attractive instant interest rate of 1.56%, which is well above industry average in Ireland and only beaten by German competitor Trade Republic. This rate, offered on the Easy savings plan is completely free and can be upgraded to one of Bunq's other 3 plans. Bunq is much faster than Raisin Bank Ireland and requires less paperwork to avoid pesky DIRT fees but does suffer from a lower interest rate. If you are looking for a more traditional bank, Bunq might be more up your alley. You can look at our ultimate Bunq review here.
Trade Republic is a German investing platform while it is primarily a trading platform it offers an interest rate of 2% on unvested cash. It is easy to set up an account and navigate the UI. While Trade Republic offers lower interest rates than Raisin Ireland it is definitely a strong option to consider, but bear in mind as it's not a bank it might not have all the protections a bank may have.
Raisin Bank Ireland in a nutshell – Raisin Bank Ireland
Raisin Bank is a fantastic service, especially for Irish users making practically no money off of interest in Irish commercial banks. Raisin Bank Ireland can help Irish savers capitalise on the recent hike in interest rates in Europe.
Raisin is also free to use, meaning there is no financial downside to using raisin.ie. However, Raisin can be slow in both setting up an account and transferring in and out of external accounts. There have also been complaints of sloppy customer service.
Raisin bank Ireland also has problems with high DIRT as if the proper paperwork is not done, you may end up paying both Ireland's and the other countries DIRT rate, combining for quite a deadly concoction for your wallet. This can be avoided by either filing the proper paperwork or choosing a country with low DIRT. While the speed and hassle of Raisin may discourage some users, the potential earnings from their sky high interest on savings makes them almost impossible to ignore.
Next Steps
You can sign up with Raisin Bank Ireland here
See our article on savings accounts here